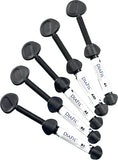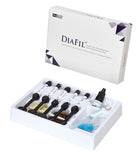 DiaFil
(Syringe) Light-Cured Nanohybrid Composite
DiaFil™ is a light-cured nanohybrid composite. Utilizing the latest in nanoparticle technology, DiaFil maximizes the advantages of both the esthetic of microfilled composite and the strength and durability of hybrid composites. It creates a beautiful and durable restoration that maintains a long-lasting gloss shine. Available in Syringe Starter Kit, syringe refills, and capsules.

Would you like to try a sample? Set up an account and receive a sample at no cost. 

FEATURES & BENEFITS

Nanohybrid composite
Easy to place/sculpt and does not slump
Does not stick to instruments
Adapts well to margins
Wear & high fracture resistant

Remarkable color stability
Fast polymerization time: 20 seconds
Can be used for both anterior and posterior restorations
Unique fillers reduce polymerization shrinkage for less post-operative sensitivity and secondary cavities due to marginal leakage

Excellent fracture toughness, high tensile, compressive strengths for long-lasting results
Optimal translucency, opalescence, and fluorescence with remarkable color stability

Available in 12 shades matching with tooth structure to make it easy to finish and polish


INSTRUCTIONS  |  SDS  | BROCHURE  | CLINICAL EVALUATION  |   PRODUCT REVIEW
Read about it in Compendium | My Finest Case by Dr. Gregori M. Kurtzman
STARTER KIT
Contains: 5 x 4g syringes, 1 DiaPlus, 1 DiaEtch, 50 brush tips, brush handle, mixing well, 10 tips, and shade guide.
| SET | INCLUDED SHADES | ITEM NO. |
| --- | --- | --- |
| A | A1, A2, A3, A3.5, B2 | A2001-1101 |
| B | A2, A3, A3.5, B2, B3 | A2001-1102 |
| C | A1, A2, A3, A3.5, C2 | A2001-1103 |
SYRINGE REFILL
Available in 12 shades
Contains: 1 x 4g syringe
Shade
Product #
A1
A2001-1201
A2

A2001-1202

A3

A2001-1203

A3.5

A2001-1204

A4

A2001-1205

B1

A2001-1206

B2

A2001-1207

B3

A2001-1208

C2

A2001-1210

C3

A2001-1211

A2O

A2001-1212

A3O

A2001-1213