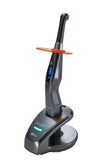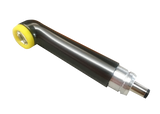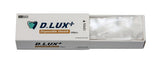 D-Lux+
Cordless Dual-Wavelength Curing Light
D-LUX+ is a high-performance dual-wavelength cordless LED curing light. Built and designed with the highest quality and durability, its dual-wavelength can effectively, and uniformly polymerize all light-cured dental materials. Having a maximum light intensity output of 2,400mW/cm2, D-Lux+ can complete all restorations safely, efficiently, and reliably.
FEATURES:
A high-intensity output of 2,400 mW/cm2 and 10W LED offers a short curing time and efficient polymerization.
360° swivel light probe and silicone ring tip ensure patient comfort.
Broadband spectrum of 385nm~515nm.
Dual-wavelength with 4 LED lamps can efficiently polymerize all dental materials.
5 versatile curing modes allow flexible curing time and power intensity including 1-second curing and Orthodontic curing mode.
Wireless inductive charging system eliminates any potential charging contact problems.
High capacity 2,600 mAh Li-ion battery offers longer battery life and power intensity stability.

Designed ergonomically, the handpiece is light and elegant so it can easily reach all curing sites offering maximum comfort for both patient and clinician.

Designed for comfort, the light probe has an optimal 10o angle to reach all tooth surfaces even the posterior area.

Built-in Light Intensity Measurement Sensor provides peace of mind so clinicians can always verify if the intensity is within normal range.
5 CURING MODES:
STD (Standard):

 

900 mW/cm2 (±10%) light intensity for 5, 10, 15, or 20 seconds
SFT (Soft start):

 

Light intensity gradually increases to 1,300 mW/cm2 (±10%) for 10 or 15 seconds
HIG (High Power):

 

1,300 mW/cm2 (±10%) light intensity for 5, 10, or 15 seconds
ORT (Orthodontic):

 

1,800 mW/cm2 (±10%) light intensity for 3, 4, 5 seconds or P [pulse]
* ORT P (Pulse) mode:

 

light turns on for 2 seconds and then off for 1 second eight times

MAX (Max Power):

 

2,400 mW/cm2 (±10%) light intensity for 1, 2, or 3 seconds
ORDER INFORMATION
#4008-1001 D-Lux+ Regular Kit
Contains: D-Lux+ Handpiece & Charger, Light Probe, Light Protector, Disposable Sheaths (200/Box), Power Supply (Adapter), Power Cord
Accessories:
#4008-1110 Handpiece
#4008-1120 Charger
#4008-1130 Light Probe
#4008-1140 Battery Pack
#4008-1150 Light Protector
#4008-1160 Power Supply (Adapter)
#4008-1161 Power Cord
#4008-1170 Disposable Sheaths (200/Box)
INSTRUCTIONS  |  SDS  |  BROCHURE